Training & Development
GFIA provides both training and professional development for financial professionals throughout Gibraltar. While there is a discount for GFIA members who participate in seminars and courses, GFIA aims to build the quality of the local workforce as a whole.
The GFIA training committee works to achieve this goal in several ways.
Seminars are offered on a regular basis throughout the year and are ideal for professional development purposes. Seminars range in topics from those who are just beginning a career in finance to those who are seasoned professionals.
In addition to training, GFIA hosts regularly events for its members including: think-tanks, working groups, networking and social meet-ups and an annual dinner.


Upcoming Events
Wednesday 6th November 2019

The breakfast seminar will be held, at the Nash Room, Institute of Directors – which is situated at 116 Pall Mall, London SW1Y 5ED. Gibraltar - focusing on best in class legislation for its long established and successful funds industry, crypto funds and reciprocal access to the United Kingdom. The seminar will include an address by a keynote speaker as well as a panel discussion. Further details on the panel session will be released in due course.

08:15am – Breakfast will be available as from this time

09:00am – Welcome and introduction by Tim Haynes

09:05am – Address by Albert Isola, Minister for Financial Services

09.15am – Key note speaker and panel discussion

10:30am – Networking opportunity The breakfast is being hosted by HM Government of Gibraltar.

The Minister for Financial Services will also be addressing the audience. The seminar will be theatre style and there will be a charge of £30.00 per person. We shall make every effort to accommodate your request for reservations, however the maximum capacity for the breakfast seminar is some 150 people and space is therefore limited. We anticipate that demand will exceed supply and we would therefore urge you to contact us as soon as possible. Expressions of interest, indicating the number of places required (including the number of guests you anticipate will attend) should be sent to us via email to allison.wink@financecentre.gov.gi and cc: nadiuska.segovia@financecentre.gov.gi
Past Events
18th October 2019 - Breakfast training seminar in the field of Thematic and Sustainable Investing given by specialists in this area Sarasin & Partners LLP.

11th October 2019 - Double Seminar on Review of the Financial Services Bill which was delivered by representatives of the GFSC & Continuation of Business in Spain post Brexit which was delivered by Miguel Prado and Marta Babiano - Sunborn, Gibraltar
13th June 2019 - Training (leadership and management) on the concept of VUCA (volatility, uncertainty, complexity and ambiguity) in association with BrightMed
April / May 2019 - Gibraltar House - London
04 April 2019 - 20th Anniversary Gala Dinner at Sunborn, Gibraltar
March 2019 - Training on funds and the NAV

31 January 2019 - GFIA Breakfast: Crypto Funds, The Gibraltar Solution, Gibraltar House, London
On this occasion, the Ministry for Financial Services, the Gibraltar Finance Centre and GFIA promoted Gibraltar in a more targeted way, inviting experts from some top law firms to take part at the Breakfast which was introduced by the Hon. Albert Isola MP (Minister for Financial Services and Gaming, Gibraltar) and James Lasry (Chairman of GFIA and Partner and Head of Funds at Hassans International Law Firm, Gibraltar).

A panel discussion, moderated by Jay Gomez (Deputy Chairman at GFIA and Senior Associate at Triay & Triay Law Firm, Gibraltar), followed with contributions from professionals of this sector such as Moe Cohen (Treasurer at GFIA and Founder of RSM, Gibraltar), Ashish Gianani (Portfolio and Relationship Manager at Atlantic Capital and Business Director at Atlantic NeoTechnlogies, Gibraltar), James Towning (CEO at Blockstars Capital, London), Heather Adamson ( Secretary at GFIA and Director at Juno Funds Services, Gibraltar).

The event was well attended with a diversity of professionals and fund promoters in the audience
GFIA Dinner at The Travellers Club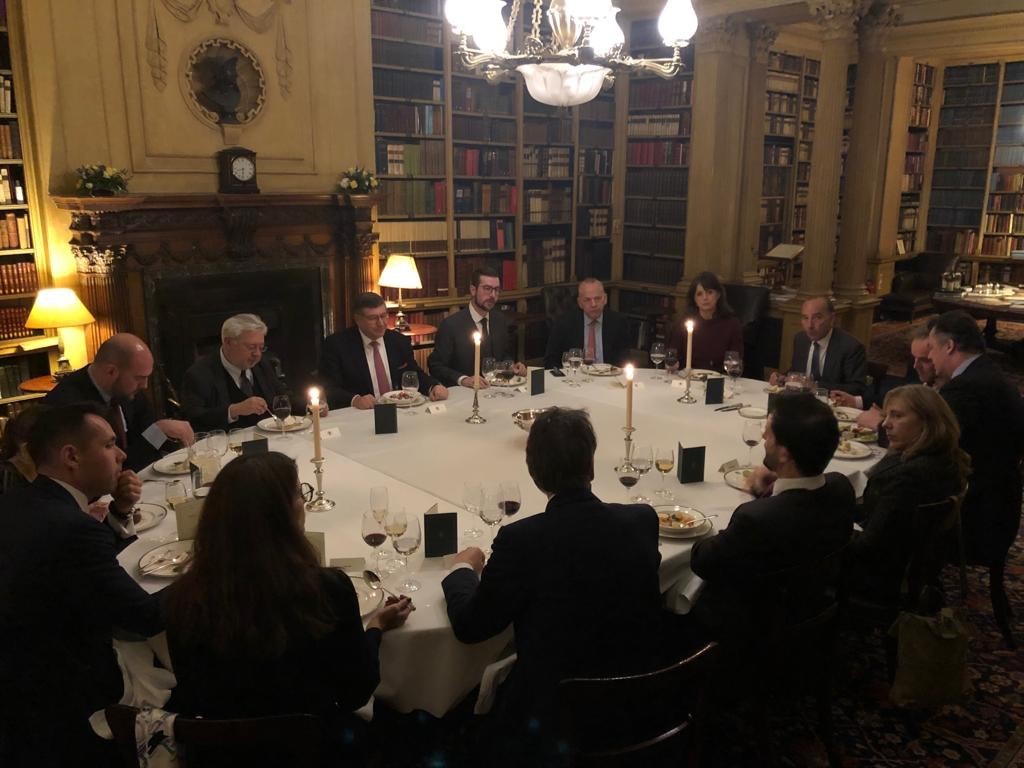 The Dinners, held on two separate evenings, brought together representatives of our local industry, and experts from some of London's top law firms.
• 30 & 31 January 2019 - GFIA Dinners & The Travellers Club, London
• 10 January 2019 - Think Tank session - Beyond Brexit: Marketing Gibraltar's Investment Sector Globally
Social / Networking meetup to follow Finance Centre, Gibraltar
• 14 December 2018 - Crypto Funds Case Study Seminar, The Sunborn, Gibraltar
Following the publication of GFIA's Corporate Governance Code for Gibraltar Crypto Funds, the seminar included mini-case studies covering key issues faced by directors, lawyers, administrators, auditors and clients in the establishment and running of crypto funds. A particular emphasis was placed on the practical realities of working with the crypto funds and saw the relevant contributions from local professionals experienced with crypto funds as James Lasry (GFIA, Hassans), Sam Buxton (Digital Asset Management), Faith Howe (GFIA, EY), Carlos Martins (Lendingblock), Marek Mahdal (Rockchain) and Benjy Cuby (Finsbury Trust).
• 28 November 2018 - Think Tank session on Security Tokens, Hassans, Gibraltar
This inaugural session focussed primarily on the possibility of tokenising funds. Topics of the discussion were:
Using blockchain to raise funds: Security Tokens and Regulatory Regime (James Lasry)

Issues related to the EIF Regime and Prospectuses Act (Jay Gomez, Triay & Triay, GFIA)

New Regulations on tokens (Sian Jones, GFSC)

Security tokens in other jurisdictions (Sheldon Freedman, Hassans, FinTech and Funds Team)
• 22 November 2018 - EIF Directors Meetup
• 21 November 2018 - Startup Grind, WTO, Gibraltar
Further to the success of the previous edition, this year's event featured important contributions on crypto funds and EIFs from James Lasry (Partner and Head of the Funds Team and a member of the FinTech team at Hassans International Law Firm) and on the exponential growth in the blockchain sector by Nick Cowan (CEO of Gibraltar Stock Exchange and founder at the Gibraltar Blockchain Exchange).
20 November 2018 - Quaero Capital - Investing Away From The Crowds, The Sunborn, Gibraltar
The session opened with an introduction by Amancio Pérez (Head of Sales Iberia & Latam) and explored Investment strategy, with focus on perspectives and investment ideas for 2019 by Arrash Zafari (Fund Manager for Quaero Capital New Europe and member of the European Small Cap investment team).
24 October 2018 - GibFin, QEII Centre, London
The primary symposium for the Gibraltar DLT Ecosystem aiming at giving the widest possible audience the chance to join the global visionaries who are forging the DLT future and to experience Gibraltar's world leading DLT community. The event spanned for a whole day and benefitted from the participation of prominent personalities as contributions from The Hon. Fabian Picardo (Chief Minister, Government of Gibraltar), Minister Albert Isola, Dr Wulf Kall with his overview of current crypto economic models, Joey Garcia with his talk on global regulatory developments for 2019 and their impact on the DLT market and Sian Jones (Gibraltar Financial Services Commission). GFIA was represented on this occasion by James Lasry and Jay Gomez on the panel Crypto Investment Models for 2019.
23 October 2018 - Funds and Asset Managers Breakfast, Royal Automobile Club, London

A vibrant and well received event by the Gibraltar and UK communities. Important contributions where made by Minister Albert Isola and James Lasry.

22 October 2018 - Gibraltar Day Lunch, London

09-10 October 2018 - Gibraltar Day, Tel Aviv
On this occasion, GFIA was represented by Moe Cohen (Treasurer at GFIA, Chartered Accountant and founder partner of RSM Gibraltar) who spoke on the panel The Benefits of Doing Business in Gibraltar. The event was very successful with a general feeling of a dynamic demand for Gibraltar's solutions for all crypto businesses, including EIFs, as a result of its government initiatives and support to this industry also thanks to a well-established legislation and the particularly attractive banking solutions.